Speak Up Newport Candidates Forum Come ask the candidates for the Newport Beach City Council the questions that are important to you! Moderated by Michele Gile - Orange County Reporter for CBS 2 and KCAL 9 TV News
The Speak Up Newport Candidates Forum provides an opportunity to meet and query those who would be leaders of our community. The Forum will be moderated by Michele Gile, the Emmy Award-winning Orange County Reporter for CBS 2 and KCAL 9 TV News.(see inset.)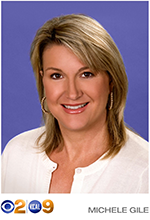 In addition to the Forum, candidates will have tables outside the Community Room, offering materials and the opportunity to talk to attendees prior to and after the Forum.
For many years, the Speak Up Newport Forums have been known as the most engaging and well-attended of all the Community Forums. Join us to hear the candidates answer questions on important civic issues.
You don't want to miss this program! To submit your candidate questions on-line: CLICK HERE
Forum Details:
Wednesday, September 14th, 2016
Reception: 5:15 PM† | Forum: 6:00-7:10 PM
† Please note the new start time.
Civic Center Community Room
100 Civic Center Drive
Newport Beach, CA 92660
(949) 224-2266
Intersects Avocado, between Pacific Coast Highway and San Miguel
The Community Room is on the right (directly across from City Council Chambers) when you enter the complex on Civic Center Drive. Parking is available in the Parking Structure and in the parking lot adjacent to the structure.
There's no charge to attend. Please bring your neighbors and friends. Guests are always welcome.
To download the flyer CLICK HERE - Requires Adobe PDF
To see the Google Map CLICK HERE.